Western Dakota Technical Institute
Mission Statement
"Western Dakota Tech is a public institution of higher learning that embraces quality programs, expert faculty and staff, and a commitment to academic excellence to teach the knowledge, skills, and behaviors students need to be successful.".
Quick Facts
Updated U.S. Gov IPEDS 2017-18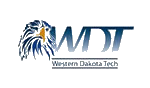 Location:

Rapid City, SD

Student Body:

1,050

Education Type:

2 Years+

Funding:

Public

Campus Type:

Rural

Web Site: www.wdt.edu
Acceptance Rate:

Open Enrollment
Acceptance Rate:

Open Enrollment

Application Deadline:

n/a

International Students:

Unreported

Application Fee:

$0
Tuition:

$3,450

Room and Board:

n/a

Books and Supplies:

$2,500

Other Fees:

$3,718

Net Price In-District/State:

$13,114

Net Price Out-of-State:

n/a
Health Professions:

39%

Vocational Trade Programs:

17%

Business, Management, Marketing:

10%

Mechanic, Repair Technician:

9%

Engineering Technology:

7%
Academic Programs
Western Dakota Technical Institute offers 41 Total Programs in Associate's, Certificate Degree Levels. The most popular area of study for students are degrees in Health Professions. Choose an area to explore below to see detailed degree programs at each degree level.
Graduation Rate Within 150% of Time:

31%

Graduation Rate Within 200% of Time:

42%

1st Year Retention:

60%

Post Graduation Salary:

$32,900