Midwestern Baptist Theological Seminary
Mission Statement
Midwestern Baptist Theological Seminary serves the church by Biblically educating God-called men and women to be and make disciples of Jesus Christ.
Quick Facts
Updated U.S. Gov IPEDS 2018-19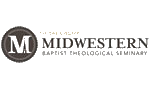 Location:

Kansas City, MO

Student Body:

2,797

Education Type:

4 Years+

Funding:

Private

Campus Type:

Urban

Web Site: www.mbts.edu
Acceptance Rate:

95.61%
Acceptance Rate:

95.61%

Application Deadline:

n/a

International Students:

Unreported

Application Fee:

$25
Tuition:

$7,850

Grad Tuition:

$5,720

Room and Board:

$7,500

Books and Supplies:

$1,200

Other Fees:

$615

Average Net Price:

$9,905
Theology:

91%

Health Professions:

6%

Foreign Language, Literature:

2%

Interdisciplinary Studies:

<1%
Academic Programs
Midwestern Baptist Theological Seminary offers 41 Total Programs in Associate's, Bachelor's, Master's, Doctorate, Certificate Degree Levels. The most popular area of study for students are degrees in Theology. Choose an area to explore below to see detailed degree programs at each degree level.
Graduation Rate Within 150% of Time:

41%

Graduation Rate Within 200% of Time:

30%

1st Year Retention:

40%

Post Graduation Salary:

n/a